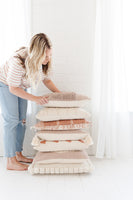 Unique Handmade Pillows & Throws
We're on an ambitious mission to discover one-of-a-kind artisan handmade pillows, throw blankets and other home decor. 
We literally search the global textile markets for these unique pieces of art and their makers.
By partnering with some of these creators, we're able to make these treasures available to you at discounted pricing.
Each piece has a soul filled story to tell in your home. Follow along with us on Instagram! 
Follow On Instagram